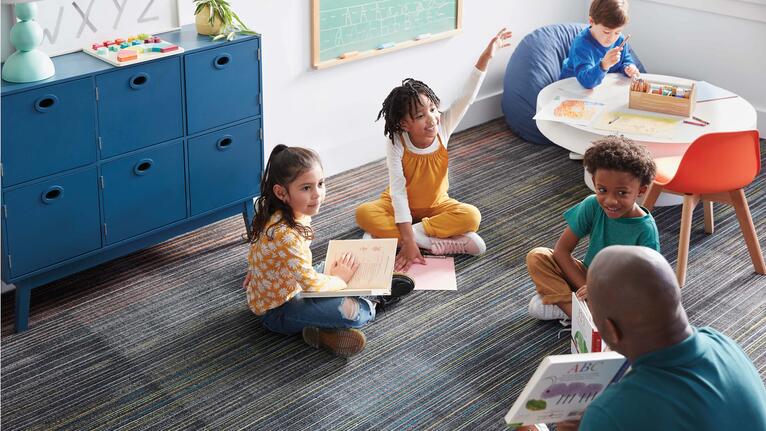 Powerbond® RS CERTIFIED by Allergy Standards Ltd.
Powerbond® RS Hybrid Resilient Flooring is the First Soft Surface Flooring CERTIFIED asthma & allergy friendly®
People with asthma and allergies are often advised to avoid carpet whenever possible. This is because carpet can harbor dust mites, foster mold growth, and make it difficult to remove allergens while cleaning.
What's different about Powerbond RS Hybrid Resilient Flooring?
Even though Powerbond RS is soft and comfortable like carpet, it's actually a unique hybrid resilient flooring that's durable and easy to clean—and far less likely to contribute to asthma and allergy triggers. In the strict testing protocols established by Allergy Standards Ltd., Powerbond RS met or exceeded all requirements for soft-surface flooring.

Enjoy the comfort of carpet with the durable performance of resilient sheet flooring.
Powerbond is a heterogeneous construction of nylon and closed-cell cushion. Fused together through heat and pressure, the layers are inseparable. It's not carpet. It's not resilient. It's an innovative hybrid of both--bringing together comfort, style and softness, with long-lasting durability. This floor covering is completely impermeable to moisture and contaminants, while absorbing sound.
Closed-cell cushion backing & impermeable, welded seams prevent mold growth
Softened acoustics
Low pile height so dust & allergens are easily vacuumed
Dynex SD® fiber with permanent stain resistance
Contains no chemicals of concern, including ortho-phthalates & PFAS
Choose from 300+ design options.
Tarkett offers hundreds of Powerbond RS solutions to meet the design needs of every space and segment—and they're all CERTIFIED asthma & allergy friendly®. From K-12 classrooms to university student housing, and corporate offices to senior living environments, Powerbond RS helps you create healthier spaces with great design and amazing comfort.